Are you ready to get a head start on Memorial Day weekend!  
Big Daddy's is hosting a one night stay at Big Daddy's Resort in Puerto Armuelles.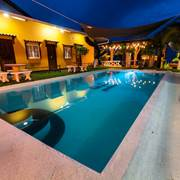 MAY 24 to 25, 2018 (Thursday & Friday) The Resort only has 10 rooms and we have booked the whole resort for our private party. An early start to celebrate Memorial Day weekend.
ITINERARY:
          May 24th    1.)   We will leave Boquete at 8AM and ride in comfort on a private tour bus to Puerto Armuelles, a 2.5 hour ride.  The trip includes continental breakfast, coffee, tea, pastries prior to leaving Boquete and continue as we travel. You will receive water, red and white wine, beer and snacks throughout the trip.  We will make necessary stops along the way if needed.
          2.)    Once we arrive at Big Daddy's Resort and you settle in, you may want to stretch a bit with a swim in the pool, a stroll on the beach before we have a "corn toss" competition! We will have teams competing in a non-invasive game for some really nice prizes.
         3.)  After you have worked up an appetite we will have a scrumptious pig roast dinner (made by Chris from Big Daddy's) on the deck right by the ocean. The complete dinner and 1 free drink  is included in the price of the trip.
 The rest of the evening is yours to enjoy in the bar area, by the pool or whatever.                                                                                  
          May 25 - Friday morning there will be breakfast in the dining area, also included in the trip,  The small town of Puerto Armuelles is filled with friendly people and quaint little shops.  You can take a taxi or walk to town via beach which is quiet close. Or a short tour of the town of Puerto Armuelles.
        We will resume the corn toss competition about noon to determine the winner.   Followed by a pizza party, included in the price, before heading back to Boquete.
          If there is interest, we can make a stop at the Frontera for a short shopping spree.  
         On the way home, we will continue to serve you wine and water.
        Estimated time of arrival in Boquete  4ish pm or 5pm if we stop at the Frontera.
 All inclusive rates below includes: 
Round trip bus trip with continental breakfast, wine, water and snacks, 1 nights stay at Big Daddy's Resort, pig roast dinner and 1 drink, breakfast, and pizza party before heading for home.  A short stop at the Frontera if majority wants to, and more fun and refreshments on the way home.
Rooms are available on a first come, first serve basis only. 
Oceanview room (only 2 available) for a double occupancy total price of $250. Couple/ $125. per person.  Single occupancy is additional $40.
Pool side room (5 available) for a double occupancy $230. Couple/ $115. per person. Single occupancy is additional $30.
King room (3 available) off the pool w/o a window for a double occupancy $200. Couple/ $100. per person.   Single occupancy is additional $20.  For anyone looking to save money, this is perfect for you.           
Third person rates are additional $50. for entire package.
All rooms have a King size bed plus a sofa bed.  Price is based on double occupancy. Single person rates are extra as noted.
 Contact:  Linda Hart - lhart249@hotmail.com (Promoter for Big Daddys)